LG G7 ThinQ 還未正式公佈,不過 LG 就發出新聞稿介紹 G7 ThinQ 的屏幕部份。
更光更省電
LG G7 ThinQ 配備 6.1吋 3120×1440 FullVision 19.5:9 屏幕,最高亮度達 1000nit,是現有智能手機市場上最光高的屏幕。G7 ThinQ 採用了最新的 LCD 技術 "Super Bright Display",讓用家可以接近任光度環境下輕易操作手機,尤其是在充足日光下,而能源消耗亦較 LG G6 減少 30%。
G7 ThinQ 屏幕為 19.5:9,下方邊框較前入減少 50%。屏幕比提升,並採用符合人體工學的彎曲玻璃,用家可輕易以單手掌握。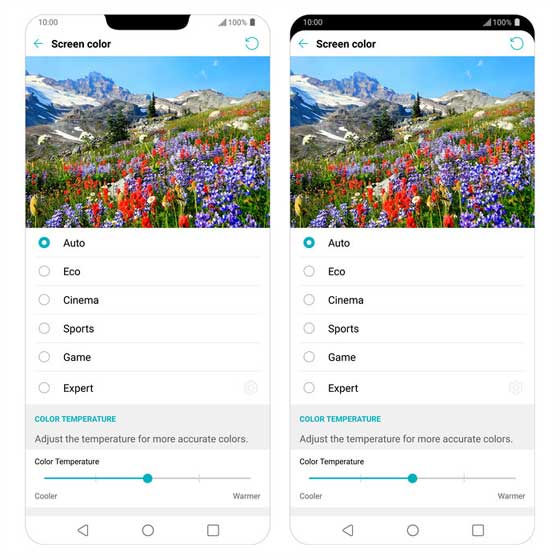 可自訂 RGB Color Level
G7 ThinQ 亦有六個顏色設定,包括 Auto, Eco, Cinema, Sport, Game 和 Expert,當中 Auto Mode 可自動分析畫面內容,例如影片, 遊戲, 網頁, 相片等,並會自動調節顯示從而減少能源消耗。手機亦可讓用家自行調整 RGB Color Level,配合自己的個人喜好。
New Super Bright Display Allows Stunning Display Quality While Lowering Power Consumption

LG's upcoming premium smartphone, the LG G7 ThinQ, will be equipped with a brand new 6.1-inch display QHD+ (3120 x 1440 resolution) FullVision display that is rated at a maximum of 1,000 nit, making it the brightest and most vibrant display on the smartphone market today.

Powered by LG's latest LCD technology Super Bright Display, the LG G7 ThinQ allows users the convenience of operating the phone in almost any lighting condition, notably under bright sunlight while reducing power consumption by as much as 30 percent than the LG G6.

Building on the well-received LG G6's display-to-body ratio, the LG G7 ThinQ will be easy and comfortable to operate and hold in one hand, especially with the ergonomic and beautiful curved tempered glass. The previous 18:9 FullVision display of the LG G6 has also been enhanced on the LG G7 ThinQ with a new 19.5:9 FullVision screen ratio complemented by almost 50 percent slimmer bottom bezel than its predecessor.

Color tones on the LG G7 ThinQ will look rich and natural even under bright light courtesy of the newly developed Super Bright Display by LG that covers 100 percent of DCI-P3 color space. Additionally, the LG G7 ThinQ can automatically adapt to six screen color settings for different content such as Auto, Eco, Cinema, Sports, Game and Expert. Auto mode enables LG G7 ThinQ to automatically analyze current content, such as video, game, photo or web, and optimize display setting while reducing power consumption.

For power users that are looking for total control over their smartphone's display, the LG G7 ThinQ allows users to fine-tune the screen by conveniently scrolling each RGB color level option while supporting modes are activated. LG has offered a similar feature with its camera in the past for shutterbugs, and it is doing the same for users desiring a higher-level degree of control with their displays.